Such a fun day!
Charity & I went to a scrapbook garage sale in Moorhead, MN. I have never been to one, and I was amazed at the HUGE crowd of women there to do some serious shopping! There were 30 vendors set up with TONS of stuff- I was in rummaging-scrapbooking heaven! (2 of my absolute favorite things to do!)
Look at this line!!!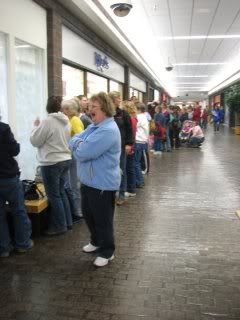 I am happy to report, that even with the plethora of amazing items (at amazing prices!) I was able to reign myself in and only get things I thought I would definitely use.
Here is a picture of the treasures I came home with:
7 Gypsies Wax & Seals Kit (MRP: $20.00) GSP: $3.00
Artsy.licious Ribbon x 2 (MSP: $16.00) GSP $3.00
American Crafts Rub-Ons (MRP: $7.99) GSP: $1.50
Chatterbox Stitched Felt Stickers (MRP: $5.00) GSP: $1.00
Creative Charms Shimmer Flowers (MRP: $2.99) GSP: $.50
4 Ltd Edition Club Scrap Stamps (MRP: $40.00) GSP: $4.00
Stampa Rosa Background Stamp (MRP: $12.00) GSP: $1.00
A stamp in The Hand Co. Stamp (MRP: $10.00) GSP: $1.00
6 7 Gypsies Mini Books (MRP: $25.00) GSP: $5.50
Retail Price: $139.00
Garage Sale Price: $20.50!!
....now that is what I call a good deal!