The new
Lipstick Chicks
have their first
reveal today and here is mine:
My sisters and I LOVE to meet for breakfast!
Cracker Barrel is one of our favorites :)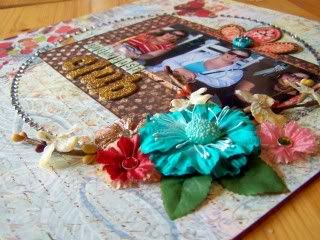 To make the "Bling-Ring", I traced a plate onto my paper, then I placed the gems individually around the circle.
I love the way it came out!
Supply List: Pattern Paper, Decorative Brad & Flowery Twigs: K & Company; Flowers: Prima; Thickers: American Crafts; Alpha Stickers: October Afternoon; Bling: The Paper Studio; Sparkle Brads: Karen Foster Design; Ink: Colorbox
*****
Make sure you stop by the
to see all the DT's beautiful work & to play along!
Hope you can join us!